In today's article, we'll talk about how to use a laser level to install your new kitchen cabinets. If you don't already own a laser, go here, best laser levels for cabinets, and find the best one for your budget.
Back to the kitchen now!
Kitchen for me, as an ex-Chef, it's the part of the house that I most enjoy spending time when I'm at home. And I loooooove to have a beautiful, organized and functional kitchen to cook my favorite dishes for my kids and wife.
That makes me happy 🙂
And today, I wanted to bring you ninjas this little guide on how to use a laser level to install kitchen cabinets, to assist you in case you have decided to install kitchen cabinets yourself.
It's not a hard job to install a new kitchen … as long as you have the right tools and a bit of guidance! If you don't own a laser level yet here's our page on how to choose a laser level.
How to install kitchen cabinets like a ninja using a laser level
I personally, love these gadgets, it's such a handy tool to have not only as a Construction Professional but as a homeowner as well. Really useful for DIY projects!
Let's get into the steps of how to use the laser level for installing our brand new cabinets.
Step 1 – Find the floor highest point

What we need to make sure first it's that we know where the high point of our floor is.
That's right.
In case you didn't know, our floor it's not always leveled.
For that, we set up our cross-line laser level on a tripod or screw it on the wall. We set it up at any height, put it at 1,5 m from the floor if you want. This is only going to be used as a guideline, to make sure that we do our marking accurately and plumbed.
The most important thing to remember here is this:
All pros will start to install the kitchen base cabinets FROM THE HIGH POINT – NOT FROM THE LOW POINT!
Do you wanna know why?
Picture this. If you start to install your kitchen cabinets from the LOW point, once you'll get to the higher point you will have to go up with the cabinets and you'll have 2 option here:
Continue and your kitchen will look terrible and not functional being curved up.
Take everything down … set up the laser level and do the measurements again … waah waah waah
If you start from the HIGH point though, even if the floor it's not leveled … the top of your cabinets will be leveled, And you will only have to play with the kitchen cabinets legs in order to adjust the desired height.
So, in order to find that high point, you'll switch on your laser level, take out your measuring tape and start going around, measuring the points at the back of the wall and as well we come out to where the front of the base cabinet will be!
Once you've found your floor high point, mark it and we go to the next step.
Leave the laser on, it will serve as a guideline!
Step 2 – Check if the wall is plumbed vertically
I also like to check not only how the floor looks like in terms of leveling … but I want to check if the walls are leveled as well. Do they have any humps …
So we need to take our straight edge (a long normal bubble level) and put it on against the wall to check it the wall is plumbed vertically. If you are lucky … it will be straight 🙂
If not, if the wall is tilting in some way, then you'll have to mark where that wall it's not straight and remember that. Because that will be your reference as the highest point for that wall.
Step 3 – Check if the wall is straight horizontally
Again, we'll take the straight edge and check for any humps or irregularities in that wall. Mark all the point where your wall is not straight.
Don't skip this part just because you are anxious to see your neaf beautiful kitchen installed.
If you mess up this part … you'll be a very unhappy DIYer … trust me.
On the next step, we will still be talking about layout … this time on the ceiling.
Step 4 – Find the high point on the ceiling
Yep, we need to do that as well.
So if you are going to install kitchen wall cabinets all the way up to the ceiling, you'll have to make sure that you take reference point from the ceiling as well.
Remember that laser level that we've set up and left it on?
It's time to use it again.
You take your measuring tape and start looking for the high spot as well. Again … measure at the back of the wall and come out to where the front of your top cabinets will be.
Step 5 – Let's do our marks on the wall
On this final step of our short tutorial on how to use a laser level to install cabinets, we will make our markings of where we want the cabinets to be installed.
We'll start by measuring the back of our wall top cabinet units. Once we know the size in height of the upper cabinet … we will transfer that to the wall. REMEMBER we measure this from the HIGHEST point on the ceiling.
Just mark the point on the wall with a pencil.
So let's say your cabinet it's 40 inches in height (1 m) … we measure 40′ from the highest point on the ceiling (that we marked previously) and then we make our new mark. This is where the bottom of our upper cabinet will be.
But, to make sure it's at the same level … we take our tape again and measure the distance from the laser level line to the last mark that we've made.
So, let's say we have 15 inches (38 cm) gap from the laser line to the upper cabinet mark. We measure 15 inches from the laser line and we make a mark in each corner of the wall.
Then we draw a line on that wall and there is where our upper kitchen cabinets will be installed nice and leveled!
We do the same with the lower wall cabinets and … after that … you can finally have your kitchen wall cabinets installed
Pheww 🙂 We've made it.
As an extra way to use the laser level for cabinets leveling, watch this little video.
These guys are using a very cool system called EZ-level cabinet levelers that helps to do the job quicker apparently. (saying apparently because I haven't used it yet personally, so I don't know how good it is, but it looks very helpful in this video).
Conclusion – The most importing things to remember here
Yes. It's a time-consuming task. Trust me. I feel your pain.
But if you really want to install kitchen cabinets yourself … and make it like a PRO, you'll have to follow these steps.
After all, a kitchen it's very expensive stuff and you don't want to mess up with this project.
You layout the kitchen
You will install your cabinets always starting from

the highest point on the floor
the highest point on the wall
and the highest point on the ceiling

Always keep in mind the vertical and horizontal plan in combination with the high point so everything fits together nicely once you put your new cabinets together.
Use some of the best laser levels for installing cabinets, don't use rubbish, poor-quality tools. Aim for good tools and accessories.
Please let me know if this was helpful.
As well, let me know how your project went.
From experience, I'll tell you that it won't be a smooth process. But that's why we are here. We are trying to help with our expertise by giving advice and tips FOR FREE 🙂
---
Ninja Team Members Working On This Page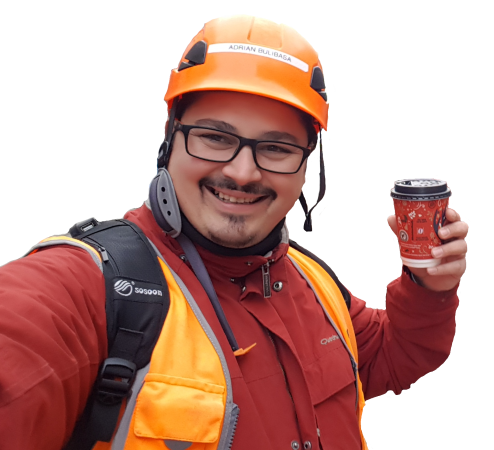 Adrian Bull – Construction Professional
Construction Professional, driver, crane operator, handyman … As a construction pro I love to get creative and see things done with my hands coming to life. Here I share with you some of the things I learn and hopefully you'll get something out of it. Enjoy 🙂
---