What's up ninja? Are you looking to update your laser leveling tool with one of the upgraded best laser levels on the market or actually to buy your first laser level? Because if you do…I have you covered. Here is my DeWalt DW089K 3 Line/beam laser level review, my favorite laser level tool.
I've used the smaller brother of this DeWalt laser level, the DW088K, and I, just like many other people, we are extremely happy with what this little tool can do.
Even though the DW089K laser it's been out on the market for some time now …  people don't go very often to buy the new laser level versions like the DW089K, they still prefer the DW088K.
You might ask yourself: "Why?"
Here are three main reasons
Just for your information, the DW088K is a best seller on Amazon, so that is one of the main reasons.
Another reason could be that being a best-seller, the DW088k laser has a lot of positive reviews. Especially from professionals builders, so that makes the product trustworthy.
And last, the price of course … the DeWalt DW088K is a cheaper laser level than the new version, the DW089K laser level.
Anyway, enough talking about the old DW088k. Let's talk about my new favorite laser level…
… I am going to tell you today what I think about the DeWalt DW089K Laser Level and why I like it, so let's get into it.
By the way, I have an article where I compare the DeWalt DW088k VS DeWalt DW089K and I believe it'll be helpful for you to check it out and see the differences between the two.
---
Quick DeWalt DW089K Review Summary
Specs
Details
Accuracy
+/-1/8inch at 30 Ft
Self-Leveling Range
+/- 4 degrees
Warranty
3 years limited warranty
Laser Line Color
Green & Red
Number of Beams/Lines
3 lines
Weight
+/- 4.6 lbs
Working Range
+/- 50 feet
Special features
Micro adjustment knob
Brighter laser diodes
3 laser level lines
Price
Check In-Store (the green beam version)
---
DeWalt DW089K 3 Line Laser Level Kit Review On Youtube
Special Features of the Dewalt DW089K laser level
Hint: 3 Beam Laser Level Projection 🙂
I believe this is GOLD. And that is the reason I am giving this laser leveling tool – 5 out of 5 Ninja Stars!
This is what sets apart this laser level from many others. Projecting the 3rd line on your working surface makes this laser level, the best laser level for framing, hands down!
If you ask especially with my friends working with drywall … they will tell you how this tool made their jobs so much easier. Not to mention the speed of how fast they are building houses and apartments having this tool.
The fact is, that this 3 line laser level it's the perfect tool for Construction Pros and for most Serious DIYers as well.
Helps with 90 degrees applications, and I can think of:
And so, so, so many other jobs that you can do with the DeWalt DW089K around the house or on a Construction Site.
Amazing tool … Amazing Feature!
Pros and Cons of the DeWalt DW089K Laser Level
PROS
Self-Leveling
3 Laser Beams/Line
3 Year Warranty
Micro adjustment knob
Flexible and Multifunctional
Accuracy distance of 30 ft
(horizontal and vertical)
Working Range 50 ft
CONS
A bit heavier than the DW088K
Magnets not very strong
Dewalt DW089K quick Q&A
Q: I keep hearing people saying that the laser level is heavy. Is it that heavy?
A: No, it's not.
The thing is if you hear people saying that the dw089K is heavy is because most of us (pros and people who had used laser levels before) we compare the DeWalt DW089K VS the DeWalt DW088K (the smaller and older version).
So, we say it's heavier in relation to the DW088K but it's not heavy at all!
Q: Dewalt laser dw089k best price - What's the best place to buy?
A: The best place to buy the Dewalt DW089K is surprise surprise ... Online
In my opinion, the best price for a laser level you'll find it online. Either here on Amazon or any other online store that you like.
Q: Does this laser level project points as well or just lines?
A: Nope, the Dewalt DW089K does not project dots, it only project laser lines.
Q: Can this laser level project green lines?
A: NO. It projects only red laser beams.
UPDATED in 2021: now the Dewalt DW089K it also projects green laser beams. Find it here.
Q: Can I use this laser level for laminate flooring installations?
A: Yes, this is excellent for that kind of application.
Laminate flooring
Kitchen cabinets
Wall Tiles Installation
Floor tiles installations
Q: Would this laser level work for ceiling works?
A: Yes, a hundred percent. Dewalt DW089K it's perfect for installing ceilings!
I've had some guys lowering the ceiling in my flat and they were using the DeWalt DW089K for that purpose.
As well it's great laser level for electricians too. It's good if you want to install many lamps in a row.
Using the laser level will reduce the chance of messing up and make sure that your lamps are all on the same line.
Q: Is the laser line visible during daytime?
A: Yes, it is.
Remember that the dw089k has a diode 2 times brighter than the self-leveling dw088k laser level.
Having said that ... you might be disappointed if you try to use this 3 line laser level in bright conditions. If the sun is out ... you will struggle to see the lines at far distances.
Dewalt has a green version of this laser level and you can find it here. Additionally, you can read what's the difference between red and green laser level beams here.
Q: Does this laser level come with a warranty?
A: Yes, it does. The DW089K laser level comes with a 3 years limited warranty.
Q: Can I hang it on the wall or attach it to a tripod?
A: Yes, all of the above.
You can hang it to the wall by screwing the bracket
Can be attached to metal surfaces having strong magnets attached to the device
Or it can be placed on a tripod as well
Q: Can this item be shipped to UK?
A: Yes. If you buy it on Amazon, some sellers, not all, will ship your Dewalt DW089K laser level to UK. Click here though to find out if anybody is selling this laser level in the UK.
---
Popular Alternatives To Dewalt DW089K
---
Should You Buy The DeWalt DW089K Laser Level? The Bottom Line
The thing is, I am honest in my reviews and I don't care much about the commission I'll make recommending these products...IF I DON'T PROVIDE YOU WITH THE BEST AND HONEST OPTIONS!
So if you want to know if you should buy this laser level, let me put it this way for you:
Yes, buy the laser level !!!
If you have the budget for it, it's a smart decision, especially for construction professionals!
No, don't buy the DW089K !!!
If you don't have the budget, don't worry. Go for the DW088K Cross Line Laser Level, it will do most of the jobs that the DW089K does ... only cheaper :)
The only thing you are going to miss here is the 3 Beam/Line Laser Level Projection...which is a spectacular feature.
If you are doing wall framing or especially if you are working with drywall and kitchen cabinets installations ... this is an excellent tool for those applications.
You are going to make more money because it will help you do the job quickly and move on to the next customer in no time!
But ...
It's not for everyone's pocket ... not to mention its brother, the DEWALT DW0825LG 12V 5 Spot Green Beam/Line Laser, which is even more expensive for projecting green laser lines, but at the same time it's one of the most accurate laser levels out there.
Almost all the time, everything comes down to money. So check the prices (links below) and have a look if it's within your budget or not!
I hope this DeWalt Laser Level DW089k Review was helpful for you ninjas...
Personally, I do recommend to buy the DeWalt DW089K Laser Level ... 100%
Read what more than 300 customers have to say about this laser level
---
Ninja Team Members Working On This Page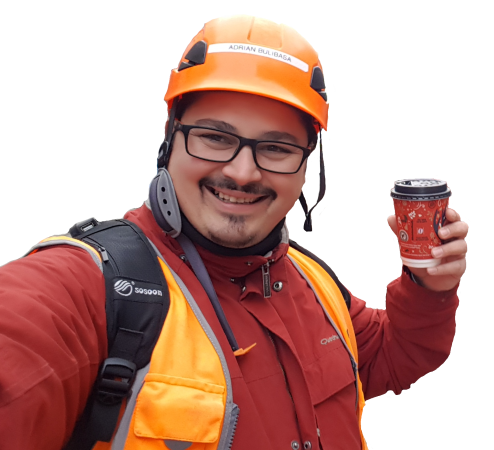 Adrian - WebMaster / Construction Professional
Construction Professional, driver, crane operator, handyman ... As a construction pro I love to get creative and see things done with my hands coming to life. Here I share with you some of the things I learn and hopefully you'll get something out of it. Enjoy :)