What's going on ninjas? Are you looking to learn what is the best laser level tripod/stand? Or maybe you want to find out what are those 7 awesome laser level accessories that I have on my list?!
Perfecto! 🙂
Either way, I'll talk about it in today's article…
I thought to put all these laser level accessories together in one single post since I believe there is not too much to talk about each one of them individually! I would be losing your time if I had to write about each one individually and then send you to different areas of my blog to read about
laser level tripods in one post
laser level target/card in one post
one post about laser level receiver and so on …
Booooriiing …
These laser level accessories are not complex and do not require so much attention individually!
BUT …
… if you think I should do one in more depth though … let me know in the comments!
So let me start with the most common one:
Which Is The Best Laser Level Tripod/Stand?
Well, that is a question that many people have asked me on-site or via email ( BTW … thanks for your feedback guys and keep those emails coming ) …
You see, the thing is, this is a bad question!
Why?!
Mainly because you have way too many laser level models on the market and you simply can not use the same tripod on all of them.
They have different:
Shapes
Size and weight
Purposes
Or different connections
And so on …
A better question would be:
What is the best laser tripod for my laser level model?
So depending on your laser level model you can start looking for a laser level tripod that would fit your device.
For example:
If you have a 360-degree rotating laser level like a Topcon or Leica Rugby (we're talking about serious toys here) ...
... you can't just use any tripod on the market, you can't buy a DeWalt light duty tripod or a photography tripod and use it with a Leica 360 laser level and vice-versa. By the way, don't forget to check out this list of the best rotary laser level for the money if you need some inspiration for when buying a new tool.
Each manufacturer will have created their own tripods for their own tools anyway, so it's easy. Just go and buy one from the same manufacturer.
So, for this example, you will need:
first of all, a heavy duty tripod.
second, need to make sure the threads will fit your device ( I'll talk a bit more about this in a minute)
and if it doesn't fit ... is there any laser level adapter that you could use?
But let me go into more depth and actually tell you ...
How To Choose The Best Laser Level Tripod For My Device?
In order to avoid disappointments when you buy a laser level tripod ... I recommend you to have a look at these few things before you go ahead and choose the best laser level tripod for your laser level device:
1. Tripod Head
This is the most important factor for me when I look to buy a laser level tripod for my device.
Here you can choose between these two more common tripods
Dome Tripod Head

Flat Tripod Head

The flat tripod head is the most common one. I guess it is because it's easier to use and you have more laser level devices that you can attach to this type of tripod head. This one is suitable for almost any type of construction lasers, grade lasers, and interior lasers.
2. Adjustability/Height Of Our Tripod
The second thing I have a look at is obviously ... how high I can set up the tripod. Some tripods will be too low for you to work and do your measurements properly.
You should go for a tripod that can adjust the height and the higher it goes, the better for me!
3. How Much Weight The Laser Level Tripod Can Support
Some laser levels are bigger than others, consequently ... most of the times are heavier as well!
So let's say you have a DeWalt 889K Laser Level and you need a tripod for this tool ... this tool weights about 4 lbs (+/- 2 kg) ... in this case, you can use either of these:
A light duty or a heavy-duty laser level tripod ...
BUT...
You can't use a light duty tripod for example for a Leica Rugby 810, since this tool has almost 10 kg (about 20 pounds).
So you can only use a heavy-duty tripod in this case.
My advice is to check the weight of your laser level device and then check if the tripod you are looking to buy can support that weight.
4. What Kind Of Material Is The Tripod Made Of
To my knowledge ... there are 3 kinds of material that manufacturers are using to build laser level tripods:
Aluminum
Wood
Fiberglass
99% of the tripods I've used are made of aluminum.
And to be honest I've been very happy with them so far.
They are lightweight and there is not too much to do in order to maintain them. Just clean the tripod with a damp cloth and store in a dry place when you're not using it.
A second material that manufacturers are using for tripods fabrication ... is wood! 
I've never had one, but colleagues on site that used one before are complaining that are heavy and they don't like to carry them around the site. Not to mention when they are getting wet ... twice as heavier!
And the third one is made of fiberglass.
This kind of tripod is more than 100 times more stable than conventional tripods, and retains this stability in use, without frequent adjustments, in the face of commonly encountered field conditions such as age, wind, fatigue, contamination, wear, temperature, moisture, humidity and anything else that you can find on a live construction site.
Yes, they are good ... but, they are very expensive :)
If you have the budget, go for the fiberglass ... if not, I was always been happy with an aluminum tripod.
5. Tripod Mounting Threads
Almost forgot to mention this one ... the thread on your tripod is very important as well.
There are 2 main ones:
5/8" by 11 TPI thread
1/4" by 20 TPI thread

Note: TPI stands for threads per inch
You can find tripod head adapters on the market that could help you adapt your laser level to your tripod.
I guess I'm done with this laser level accessory. I'm sure you can find what is the best laser level tripod for your leveling device.
Right?
Cool! BTW, if you have questions, let me know in the comments.
I was saying that I have another 7 laser level accessories apart from the tripod for a laser level, right?
Well ...
... I'm going now to list those 7 laser level accessories:
#1. Laser Level Receiver
What is it and what can you use a laser level receiver for?
Well, it's just a gadget that helps you find your laser level line when you can't see it. Let's say you work outside, and you are by yourself.
As you may know, we have red line laser levels and green line laser levels. The green line lasers are twice as visible as the red ones to the human eye.
But even so ... when we work outside on a beautiful sunny day ... it's not very helpful!
That is when we will use our laser level receiver. You can find universal laser detector that works with your laser level device, but what I personally like to do is to buy the same brand, I like to have them as a laser level kit, clamp and the receiver, grade rod stick, laser level tripod ... you know what I mean ... the whole kit from the same brand!
And I do that because, over time, I do save myself some headaches when it comes to compatibility. You will not have compatibility issues using the same brand :)
What To Look For When Buying A Laser Level Receiver?
Although you can find universal laser detectors, keep in mind what I've said above ...
You will have compatibility problems if you don't buy the right laser level receiver for your device.
Line laser level receivers will not receive the laser line from a 360 rotating laser level and vice-versa.
Be aware as well of what color your laser line is:
These laser levels have different operating frequencies...so if you have a red line laser, DON'T BUY A LASER LEVEL RECEIVER THAT WORKS WITH GREEN LASER LEVELS.
You will be disappointed :)
It won't work!!!
So, in order to make sure you won't mess up with your decision ... go with what the manufacturers are recommending for your laser level device!
#2. Laser Level Wall Mount
This is a very useful laser level accessory. You can use it if you are in the construction industry for example for installing a low ceiling and other drywall applications.
And if you are a home improvement DIYer and love to do bits and bobs around the house, you could use for example to hang pictures on your wall or shelves.
It's not too much to say about it ... just that you should make sure that laser level wall mount can take the weight of your laser tool and another thing that comes to mind is to make sure that you actually have the same thread size or you can find a thread adapter.
Some Of The Most Sold Laser Level Wall Mounts
#3. Laser Level Target/Card
This little laser level accessory I've seen my colleagues that works with the drywall using it quite a bit.
Previous drywall installation, they need to install the metal work that will support the drywall. That is where I've seen the laser level target/card to be used.
But nowadays, these guys are using green line laser levels now and that helps a lot. Especially when they are working indoors.
It's good to have one laser target card in your toolbox anyway. It's not expensive at all!
How using a laser level target card could help you see better your laser level line in daylight.
Here You Have Some Of The Most Used Laser Level Target Card
#4. Laser Level Tripod Adapter
This laser level tripod adapter is a handy little accessory to assist you in connecting your laser to your tripod.
Sometimes, you'll find that your laser level has a different connection than your tripod.
This little accessory allows you to use a tripod, for example, with a 1/4" male thread with your laser that has a 5/8"-11 female thread and vice-versa.
It's easy to use with just a simple twist. Just read the description of the tripod adapter before you buy it!
Honestly, it's very easy to understand!
#5. Telescopic Pole For Laser Level
The telescopic pole is great if you don't like to screw your laser level into walls when you work for example on lowering a ceiling ... you just need to extend your telescopic pole and you can place your level on the supports that come with the stick.
Again, with this laser accessory, before buy one you need to make sure it can support the weight of your laser level.
Oh, and please don't go for the rubbish ones, the cheapest one ... you will regret it. First for losing your time, secondly for wasting your money and the worst case scenario for breaking your laser level due to the lack of quality of a cheap telescopic pole.
Have A Look At Some Of The Most Sold Telescopic Poles For Laser Level On Amazon
Here Is How To Use A Laser Level Telescopic Pole
#6. Magnetic Bracket
Another cool little accessory that you could use with your laser level is the magnetic bracket. It is easy to use, just find a metal place that you could stick your laser level unit on ... and that's it :)
Here Is A Nice Trick That You Could Use With The Magnetic Bracket Of Your Laser Level
#7. Laser Glasses (Safety Goggles)
Looking into a laser level light without protection it could be as much or even stronger than looking into the sun on a hot burning day.
If you are working with laser levels directly or indirectly (like working in the same environment with someone that does use these tools) ...
... you should be very careful, DO NOT STARE INTO THE LASER LIGHT!
It could damage your eyes so badly that it could cause you permanent blindness.
Please avoid this and take care of yourself, use the right tools with the right safety equipment.
You might say:
Do I need eye protection if I'm working with construction laser level?
Well...to be honest, the laser levels that we use on construction sites or DIY home improvement projects, most of them are classified as Class 1, Class 2 ...
... which basically means that these ones do not emit radiation at a hazardous level, hence, users are generally exempted from radiation hazard controls.
My advice, even though I'm an advocate of Health and Safety at work ( or DIY ) ... here is what I can tell you:
Don't stare into the laser light and you'll be just fine!
I've said that already because that is common sense. Why would you look into the laser level light when you actually need to look into the opposite direction, where the light is projected :)
There might be situations where you will work with the laser level line at your eye level ... imagine working on a ceiling doing the metalwork for a low ceiling. You will be on a step ladder or a platform at the same eye level with your laser level ...
... in this situation, it will be almost impossible not to make contact with your laser light.
Just use common sense, honestly!
If you think you need to use laser level safety glasses ... DO IT !!!
Don't think about what others say, your safety is first!
This is my work ethic. If in doubt ... apply all the safety measures that make sense!
I don't believe you need to use laser glasses when using construction laser levels, only in some cases where, as mentioned above ... you can't really avoid it!
Anyway, here is a cool video that will teach you a few factors that you need to consider when you are looking to buy a pair of safety laser glasses.
How To Choose Your Laser Glasses?
Have A Look At Some Laser Glasses Available on Amazon
Conclusion
Ok ladies and gents ... let me finish this article by telling that you don't have to own all these laser level accessories.
The thing is, if you are a DIYer, this could cost you some serious money to acquire...but you don't really need to.
The best advice I can give for my ninja DIYers out there is that if you have decided to buy a laser level ... go for a laser level kit. Usually, these kits come quite complete with a laser device, a tripod, magnetic bracket and even the telescopic pole.
You might pay a bit more but it will save you money in the long run.
As we have seen ... what is the best laser level tripod was not a good question. If you already have a laser level from Bosch for example just go and buy a Bosch laser level tripod.
Save your time, money and energy on buying the rubbish ones available on the market.
Go for quality!
Hope this article helped you learn something new today!
Any questions?! Drop me a message and I'll try to help you out.
In the meantime,
Stay Safe Ninjas and Happy DIYing! :)
---
Ninja Team Members Working On This Page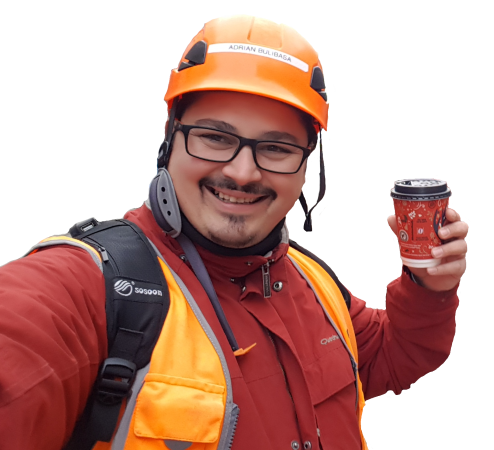 Adrian Bull - Construction Professional
Construction Professional, driver, crane operator, handyman ... As a construction pro I love to get creative and see things done with my hands coming to life. Here I share with you some of the things I learn and hopefully you'll get something out of it. Enjoy :)
---