Wondering if you still should get that laser level? Are you stuck with finding out if a laser level is worth the investment? If yes, I will answer all your laser-level questions objectively until you can make a sound decision.
So, is a laser level worth the investment? A laser level is worth the money only if it is durable, accurate, and fits in your line of work. A suitable leveling laser will give you value for your money when you put it to the right task.
This post will use facts and data to answer you and set you up for a wise purchase. Also, if you don't already know where to start check out our best laser levels guides.
Main advantages of having a laser level in your toolbox
The reference hits 100% straight level. A laser beam is a form of electromagnetic radiation, and light travels in a straight line. So you can't possibly get anything more linear than a beam of laser light.
Laser levels are highly accurate, with a division of 0.0625 per 100 feet. That's a whopping eight times more precise than a spirit level.
Laser levels get you the level point faster than analog and manual levels. You will get the reading almost instantly.
Laser levels are pretty easy to use because they don't need any advanced skills. The units are not only lightweight but also have many movable parts. The electronic components give an accurate reading on the monitor, and you don't have to do any sophisticated calculations.
Disadvantages of having a laser level in your toolbox
This may sound absurd, but laser levels are too accurate for some applications. If you are looking to align some simple objects at home, this kind of precision is unnecessary.
Laser levels are too expensive, especially when compared to analog devices. The technology involved is not only costly but also sophisticated.
Laser levels are optical devices, and therefore they are vulnerable to breakages and damages. In addition, the movable parts add to the units' fragility.
What projects would you use a laser level for?
You can use your leveling laser for several projects such as:
Indoor laser level projects
Leveling your floor
Measuring the distance between different appliances or objects.
Aligning cabinet trim shelves
Ensuring the doors and windows are within the right height.
Setting your decor
Interior designing
Aligning blinds and shades
Fitting HVAC systems
Outdoor laser level projects
Plumbing and levelling drainage systems
Shooting a grade
Land survey
Site layout
Retaining walls
Terracing
Digging out a foundation or basement
Sprinkler alignment
Comparing laser levels with other leveling tools
Table comparing laser levels vs. spirit level vs. string line (chalk line)
| | | | |
| --- | --- | --- | --- |
| Features | Laser level | String line (chalk line) | Spirit level |
| Accuracy | Deviation of 0.0625 inches per 100 feet | Not accurate beyond 16 feet, especially on a windy day | Deviation of 0.005 inches per inch |
| Cost | $100 to $2500 | $2 to $50 | $10-$150 |
| Staff | 1-2 people | 2 to 3 people | 1 |
| Ideal Application | Construction projects, surveying, landscaping, aligning indoor objects, etc | Landscaping | Aligning bricks |
Laser level vs. string line (chalk line)
A string line (chalk line) is far cheaper than a laser level. And, it's suitable for landscaping and other DIY tasks at home. But, the laser level is expensive and far advanced!
Laser level vs. spirit level
The spirit level keeps bricks and lines on level. Just for a few bucks, you have a spirit level, but you'd need hundreds and sometimes thousands to match the laser level.
What to consider when buying your first laser level
Still stuck at finding the perfect first laser level for your work? Well, we're lining up a laser-level buying guide for you!
Getting a first level is exciting but knee-deep; you realize the features can be confusing. A laser level for indoor use will be different from one for civil constructions.
Some levels are more advanced than others.
So, before you add a laser level to your cart, be sure to find out if its features are what you are looking for.
Here's a list of laser level features your work may require:
Laser Accuracy and Distance
Precision is the main reason we prefer leveling lasers. Check the range of your laser beam and the number of feet you can view it. But, find out the unit's accuracy, too.
The majority of laser beams lose visibility after just a few meters. Are you going to use the laser level outdoors? Check out first if laser levels work outside here.
Is the levelling laser manual or automatic?
Different laser models have distinct features. Manual laser levels, for instance, require you to adjust them and set the laser on a straight line.
Some levelling lasers even have conventional spirit levels to help keep the device itself level.
Then, automatic laser levels have self-leveling features that correct any tilt. So, it does not matter how uneven the surface you place them is because they will just never themselves.
However, the Self-leveling laser levels are a little expensive when compared with the manual models.
Is the levelling laser green or red?
Green beams are more visible than red. This is because the human eye perceives green faster and brighter than red. Here's a list of some of the best green laser levels on the market.
However, if you are working outdoors with many green leaves or plants, you may want to use the red beam because it's a little more distinct.
Remember, red is not only easier to emit but also uses lower power than green. If you have any color-blindness issues, it's important to talk to your optician for conclusive advice.
Water and shock resistance
You don't want a damaged laser level in the middle of an important project. So, find models that are resistant to both debris and water.
If you're doing plumbing or any construction job that involves many liquids and water, always have a water-resistant laser level. These are some of the best laser levels for builders of many trades.
Even when your laser level has a shower outdoors, you want to be sure that the water will not sip into its inner components.
Does the laser level come with a receiver?
If you're working outdoors over long distances, a receiver will come in handy to detect the laser. Never heard of such a tool before? Find out here what is a laser level receiver and what it does.
Remember, a laser is a type of light that can obfuscate on a bright sunny day.
And, because the beam won't be visible with your naked eye, you should get equipment that can detect it. Looking into a laser directly can cause blindness in the worst-case scenario.
So, get a unit that has a  laser level receiver for your safety and accuracy.
Do you want a laser level for indoor or outdoor use?
Why exactly do you want the laser level? Answer this, and you'll see the features you wish your levelling laser to have!
Table showing indoor laser levels vs. Outdoor laser levels
Indoor laser levels features
Outdoor laser levels features
Simple light duty features
No water and debris resistance required
Light laser beams and medium strength signal is just okay
It doesn't require a receiverRed lasers are just fine
Highly advanced heavy-duty features
Requires a sturdy construction that resists water and debris
Must have intense beams with a long-range
Requires a laser receiver
Green lasers are ideal because they appear brighter. But, check if you have a green environment that might camouflage your laser.
Indoor laser levels do not need water or debris resistance because they're for light duties. Most indoor levelling lasers have weaker signals, too.
But, outdoor leveling lasers are usually expensive and sophisticated: they're also advanced, resistant, and expensive. In addition, the outdoor environment requires sturdy equipment, and they have to withstand the weather.
The laser must be strong enough to be visible or detectable. Plus, such levels should come with standard rechargeable batteries or dry cells.
If you need some inspiration make sure you check out out best laser levels for outdoor use page.
What to avoid when buying your first laser level?
Price ranges
The price of a laser level varies depending on the brand and application. The cheapest models include the dot lasers and the point generator, and they go for about $20 to $500.
A line laser can provide vertical and horizontal lines and cost a little more at around $600.
However, the most expensive high-end unit is the rotary laser level and costs between $300 and $2500.
Should You Buy New Laser levels vs. Used laser levels?
Should you buy a new or used laser level? Can you trust a used leveling laser?
Table showing advantages and disadvantages new vs. old laser levels
LASER LEVEL AGE
PROS
CONS
New Laser level
Has an intact warranty.
Have a sense of ownership.
Get the newest laser-level technology.
Enjoy tax incentives!
Comes with vendor's support.
It is easier to work with new equipment than old.
New levels affirm your professional status.
Enjoy the efficiency of new laser levels.
Expensive
Takes time before you break down features you need and scour markets for levels.
Used Laser level
Cheaper
It's easier and faster to buy used devices than new ones.
Avoid any initial depreciation
Some used levels are as good as new.
Levels may have a few remaining warranties.
The insurance costs are low for used levels.
Reduces waste to the environment.

Warranty is not guaranteed.
You miss out on new tech.
Second-hand items aren't permissible for tax incentives by the IRS.
No vendor support.
You'll never be sure whether it's 100% okay, or the owner is selling it because it's faulty.
Buying old construction equipment demeans your professional status.
How much is a used laser level worth?
A used laser level varies from brand to brand and seller. When you buy used levelling lasers, you'll save up to 50% of the price of a new unit.
What are some good laser-level brands to buy?
The best laser level brand for you depends on your work and taste. If you're a professional, you may go for high-end models. But, a DIYer should aim at the middle-level brands.
Laser levels examples for DIYers and PROS as well
The best laser level for DIYers strikes a balance between the heavy and light-duty models (and they don't break the bank :D)
Engineers, contractors, and professional construction workers must always be well equipped with appropriate tools. The best laser levels for professionals are durable, accurate, and resistant.
Here are some of the best brand available out here
Leica Laser Levels
Leica geosystems have been on light-duty the front line in producing high-quality survey tools for the last two centuries. Some of the leading laser levels include the Leica Lino Range, which offers line and dot lasers for indoor use.
Topcon laser levels
If you ever doubted that the Japanese are overly intelligent, then you should probably try out their Topcon laser levels. The Topcon RL-H5A Rotating Laser Level will give you a taste of both outdoor's heavy-duty and indoor light use.
Dewalt Laser Levels
DeWalt is a leading American company in the manufacture of high-end power tools. The laser levels have a rapport with professional construction workers due to their longevity, strength, and accuracy. Their DEWALT DW088LG is a demonstration of heavy-duty strength, precision, and performance.
Bosch Laser Levels
The Germans have a way with power tools, and Bosch is one of their demonstrations in high-end industrial technology. The Bosch GLL model ranks among construction professionals' favorites.
FAQs
Is a laser level a worthy investment, or should I just install a laser level app?
Developers marketing their software as levelling laser mobile applications are already filling the market, and; it can be tempting to buy one. However, my team and I haven't found any laser-level applications matching an actual laser level.
Remember, the laser levels that we recommend on this site are those you can trust to build a bridge across Niagara Falls or a Burj Khalifa-sized skyscraper. But, no doubt, we'd never sink as low as allowing you to use software that's prone to lots of code bugs or human error.
So, no: the laser level app will not replace the real laser level anytime soon.
How long do laser levels last?
A laser level can take several years before it needs a replacement. If it doesn't break or get spoilt for environmental reasons, the level will be around for more than a decade. After that, you may only want to upgrade it to another more advanced unit.
The laser diodes of a level have a life of between 25,000 and 50,000 hours. So that's about six straight years of continuous laser light emission.
But, if you only use the laser for 2 hours every day throughout the year, your unit would serve you at least 35 to 70 years!
Your laser level runs on batteries whose life is 6 to 8 hours. You can also find durable models that can go up to 16 to 20 hours.
How well does a laser level hold its value?
Your laser level won't lose value unless you break it. However, due to market forces, people may want to pay more for new levels than used ones. So, your laser level holds on to its value for about a year before its warranty time ends, and it starts depreciating.
How accurate is the laser level?
The best laser level will have a precision of 1/16 inches per 100 feet. That's eight times more precise than the ordinary spirit level, whose accuracy is just about ½ inches per every 100 feet.
Laser levels can hit a precision of ±0.2mm per meter. However, they have a sensitive pendulum that can keep moving and needs to be locked to avoid unwanted readings.
Wrapping up: so, are laser levels worth the money?
Of course, a laser level is worth the investment, but you have to be sure you're getting the right one for your work.
Indoor leveling requires a simple laser level that's inexpensive. But, the outdoors-lasers could demand heavy-duty and powerful-beam laser levels. So, pick a laser level that has the features necessary for your work today.
If you still have any ideas or questions regarding laser levels, please let's know in the comment section below.
---
Ninja Team Members Working On This Page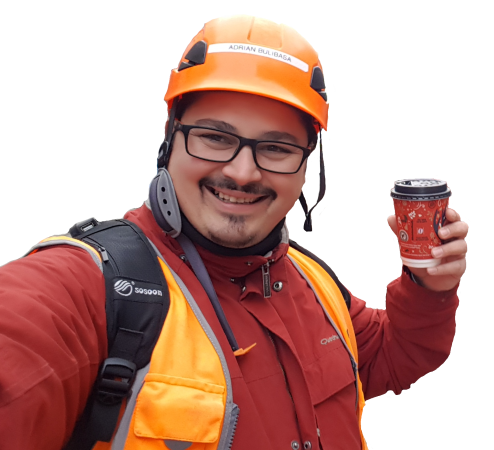 Adrian Bull – Construction Professional
Construction Professional, driver, crane operator, handyman … As a construction pro I love to get creative and see things done with my hands coming to life. Here I share with you some of the things I learn and hopefully you'll get something out of it. Enjoy 🙂
---