Are you a digger driver? I'm sure you've had enough of getting out of the machine and check the level with the rod and a laser level receiver … and then go back in the excavator cab, do a bit more leveling or digging …
come back out to check levels urghhh
… ANNOYING !!! Isn't it?
At least this is the story of my colleagues on site 🙂 They are lucky that usually, on big projects that we are working on, you will have some help on the floor. So you don't have to jump in and out of the cab…
… but what about those unlucky guys that don't have a helper???
Well guys, here's the solution to your headaches: A Laser Level For Mini Excavators. By the way, if you don't have enough time on your hands today, you can click here to quickly check out on Amazon one of the best excavator laser receivers out there.
I'm happy that you are still reading 🙂 This is actually a machine mounted laser receiver that you can attach to your excavator's arm. Saving you the annoying job of checking levels yourself every five minutes.
Pros And Cons Of Using A Laser Receiver For Mini Excavator
If you do the job by yourself…You won't have to jump in and out of the cab all the time to check levels.
Save money!!! By using one of these magnetic receivers on a machine, you won't need a man to hold the pole in the trench.
It doesn't complain about the hot weather … neither about the rain haha 🙂
Not too many cons to be honest, other than it could be a bit pricey for some people. (it's 100% worth the investment, especially if you are a small contractor)
Don't worry. The laser receiver won't fall from the excavator's arm or move either. The magnets are very strong!
Here Are Two Magnetic Laser Receivers For Excavator
You might know that with laser levels nowadays … there are hundreds of brands, forms, and shapes of laser levels.
But when it comes to laser levels that work with a machine, it's different. The choices are much more reduced (thank heavens)… so for today's short article dedicated to my excavator drivers colleagues I've chosen two brands:
Spectra Precision Lasers / Trimble LR50W-MM Wireless Display Receiver
Topcon LS-B100 Machine Mounted Laser Receiver 57110
| Models | Spectra LR50W-MM | Topcon LS-B100 |
| --- | --- | --- |
| Dimensions | 8 x 4 x 12 inches | 4.5 x 1.6 x 7.1 inches |
| Weight | 28.5 pounds | 11.55 pounds |
| Automatic Shutoff | Yes | Yes |
| IP Rating | IP66 | IP66 |
| Average Working Hours | +/- 60 hours | +/- 80 hours |
| Reception angle | 360 degrees | 360 degrees |
| Capture height | 6.71 in | 6.8 in |
| Powered by | 1 NiMH battery | 1 D batteries |
| Price | Visit The Store | Visit The Store |
1. Topcon LS-B100 Excavator Laser System
Used for construction projects like leveling the ground, moving earth, digging trenches, etc … the Topcon LS-B100 Laser Receiver it's a very useful piece of kit that can be used not only with excavators but with these machines as well:
dozers
scrapers
excavators
backhoes
drag-boxes
telehandlers
The LS-B100 receiver has a 360-degree detection angle and four on-grade accuracies from super fine to coarse mode.
Do you know the best thing about it?
It can work with most rotary lasers…so you could use it with a 360 laser level that you already have. I do recommend you to send Topcon an email before you buy it. (just to make sure it will work with what you have)
This Topcon receiver uses a mechanical clamp to stick it on the excavator's arm and that ensures slip-free placement on machines. It has finger knobs placed in front of the receiver for easy set-up.
It has a multi-colored LED and LCD indicator that can be seen even in the driest, dustiest, or muddiest jobs.
IP66 environmental rating and a rugged ABS housing, the LS-B100 is dustproof and water resistant. So, don't worry, it can take any jobs on any construction site, big or small.
One feature that you'd like about this gadget is that it has an auto shut-off function that turns off after 30 minutes of inactivity. It's powered by four C-size alkaline batteries and runs up to 80 hours of battery life.
Not heavy at all weighing about 4.5-pounds and it's compact.
Btw … there's another version of this laser receiver, it's the Topcon L-B10.
Machine operators like this one because it's smaller, cheaper and it doesn't need a magnetic clamp … you can attach it directly to your excavator's boom.
Wondering How Much This Tool Cost? Check It Out On Amazon If You Liked It!
---
2. Spectra LR50W-MM Machine Laser Receiver
If you are doing
machine mounted grade checking
grading and leveling
excavations and trenching…
… this is a great gadget to assist you will all the above jobs.
The Spectra LR50 laser machine control receiver is designed to be used as a stand-alone display receiver on grading and excavating equipment.
Just like Topcon, this machine control receiver can work with all types of rotating lasers for a fast, hassle-free setup. With three accuracy settings, the Spectra receiver provides the maximum flexibility to the user.
Another cool feature is the built-in blade tilt and plumb indicator for increased grading accuracy and precision.
The LR50W receiver has a 6.71-inch capture height and six display channels of grade information. It comes with an adjustable, bright LED with a green on-grade display that provides the user an easy-to-see display for matching ambient lighting conditions.
This machine receiver includes touch panel buttons for selecting
blade-tilt indication
on-grade location,
plumb indication
display brightness.
It's made from a tough aluminum polycarbonate housing that protects the instrument from knocks and drops. You can use it for about 60-hours before the batteries are dead and have an automatic shut-off function when left inactive for +/-75 minutes.
One thing you should be aware of before buying this piece of kit is that the magnetic mount might not be included. So before you buy it I suggest you ask the seller (any seller) if they sell it together with the laser receiver or you have to buy it separately!
Never Used One? Here's How To Setup A Laser Receiver For Excavator
Conclusion: Is It Worth The Investment In A Machine Boom Mounted Laser Receiver?
There's no contractor or excavator operator that told me this was a bad investment … on the contrary, they are very happy with this gadget.
Of course, you will have reviews about how the product has been received damaged or something was missing … but that doesn't have to do with how productive it is to have a mounted laser receiver on your machine.
I hope this short article helped you in some way.
Please let me know in the comments below what kind of laser receiver you are using and if you like it or not. I've heard a couple of "old school" excavator operators that they don't need this kind of technology … It's better the old way 🙂
What do you think?
---
Ninja Team Members Working On This Page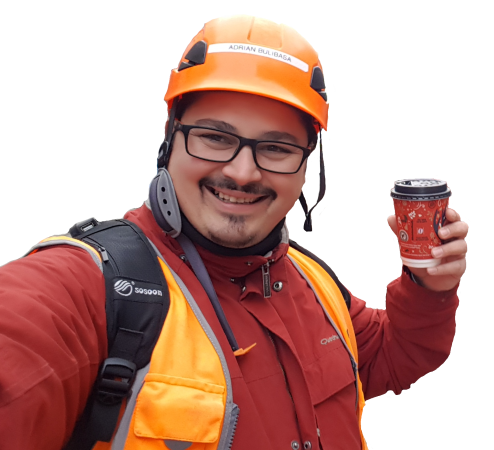 Construction Professional, driver, crane operator, handyman … As a construction pro I love to get creative and see things done with my hands coming to life. Here I share with you some of the things I learn and hopefully you'll get something out of it. Enjoy 🙂