If you are looking for a highly accurate laser level, designed by professionals for professionals with pinpoint accuracy and a wide host of cool, user-friendly features, then Huepar is the laser level manufacturers for you.
But which of Huepar products should you purchase?
We've spent countless hours looking through all their products, and it was really tough to choose just seven to recommend to you. But time is money, and so here are the top seven.
However, keep reading, because while there may well be the best overall product, you may find one of the others is best suited for your needs.
Jump to the Huepar Q&A section if you want to learn a little bit more about this brand or go straight to the Huepar laser level reviews section.
Image
Product
Details
Price

★Editor's Choice★

1. Huepar 902CG Self-Leveling 360-Degree

Green Beam
Pulse Mode
Vertical + Horizontal
12 Months Warranty

See Price

★ Runner Up ★

2. Huepar 901CG Self-Leveling Laser Level

360 Horizontal Line
Gream laser line
Pulse mode
Smart pendulum

See Price

★★★

3. Huepar 602 CR 360-Degree laser level

2 x 360 Beams
Lithium battery
Red laser beam
Range: 80Ft

See Price

★★★★

 

4. Huepar 602CG Dual Plane Leveling Laser

Green laser beam
Range: 130Ft 
Water/Dust resistant
Smart pendulum

See Price

★★★★

 

5. Huepar Box-1G cross line laser level

Compact
Smart Pendulum
1-year warranty
Green laser beam

See Price

★★★★

 

6. Huepar 9011g Green Cross Line Laser 

Simple & Compact
Green Laser Beam 
Auto leveling

See Price

★Budget★

7. Huepar 9211G with plumb dots

Water & dustproof
Cross lines
Self-leveling
1-year warranty

See Price
---
Huepar laser level reviews: the 7 best models
Let's go and have a look at each one of these Huepar laser levels and then you can compare each one of them to see if which one is best for your needs.
1. Huepar 902CG
Do you need more laser coverage than that offered by the 901CG? For example, are you working on the ceilings as well as the walls? The 902CG may be the product for you. Providing 360-degree vertical lasers as well as 360-degree horizontal ones, this product will provide you with
With vertical as well as horizontal 360 degree lasers, this product will provide you with complete coverage, meaning that once you set up your device you will not have to adjust it to cover other spots on your worksite.
And, as with the 901cg, you can use this device either with batteries remotely or with a plug if you are working near a power source.
As well as containing all the excellent, user-friendly features of the 901cg, such as manual and self-leveling modes, and pulse and power-saving mode.
And furthermore, the device is cased in IP54 soft-rubber casing, meaning that it is waterproof, shockproof, dustproof, and impact resistant.
That means almost no matter how clumsy you are, or how dusty and messy your worksite gets, the laser can be used in an outdoor setting. Finally, it is operable at temperatures ranging from 10℃-+50℃, so it's good to take to the worksite no matter the weather.
It is just a small amount more than the 901cg, so it may be worth your while to purchase this as an upgrade. Check out here a comparison between Huepar 901CG and Huepar 902CG we've done if you want to dive in a bit more into these two.
Huepar 902CG Specs
| | |
| --- | --- |
| Weight | 2.03 pounds |
| Beam Color | Green |
| Working range | 165 feet with receiver |
| Batteries required | 4 AA Batteries |
Key Features
Manual and self-leveling laser modes
360-degree horizontal lines as well as 360-degree vertical lines
Self-levels within three seconds of activation (on self-leveling mode)
Manual mode for when you need to work on a straight, non-level surface
Accuracy to +/- 1/9 inch to 33 feet.
PROS
Longer range than the 901cg
360-degree beams projected vertically as well as horizontally
A very popular product- just look at the reviews!
Free Amazon product support included with the purchase
CONS
A bit more expensive than the 901cg
Slightly shorter battery life due to more lasers being projected
---
2. Huepar 901CG
Got multiple jobs planned over the next few months? The Huepar 901cg 360 is the perfect device for combining a 360-degree horizontal line with vertical 130-degree lines to give you good overall coverage on a big job site.
And especially on big jobs, accuracy is key, and the 901cg 360 offers accuracy to within +/- 1/9 inch over 33 feet, meaning that you are confident that the job you are doing will be entirely level.
It has a self-leveling mode, which is very convenient for setting up a job where you want to work accurately. But what if you are working with non-level surfaces, such as stairs, but still want the device to project a non-level straight line?
Place the device in manual-leveling mode, manually adjust it to the angle you want, and turn the laser on! The device will blink every 3-5 seconds to remind you that it is not automatically self-leveled.
The lasers in the 901cg 360 projects are green, which are up to three times as bright as the market standard red ones. This is particularly useful when working outdoors where your laser may be hard to see.
And even if visibility remains an issue, you can place the device on pulse mode which, when combined with a receiver, allows you to use your 901cg 360 outdoors and over long distances.
No plug sockets?
No problem! This device can operate remotely with a battery life of four to six hours, and the batteries needed are simple AAs, so nothing too difficult to procure. You can also keep it simple and plug it in and use it without any batteries.
And with over 200 reviews on Amazon, you can purchase this product confident that others have found great value from its user-friendly features.
Huepar 901CG Specs
| | |
| --- | --- |
| Weight | 1.94 pounds |
| Beam Color | Green |
| Working range | 130 feet with receiver |
| Batteries required | 4 AA Batteries |
Key features
Manual and self-leveling laser modes
360-degree horizontal lines as well as 130-degree vertical lines
Green lasers, three times brighter than standard red ones
Works remotely for 4-6 hours with AA batteries, or with a simple plug socket.
Durable- Covered with TPR soft rubber, so waterproof, shockproof, and resistant to both low and high temperatures.
PROS
Cheap- This product is very competitively priced for all the features it offers
Bright green leaders, perfect for working outdoors and over large distances
Very strong reviews on Amazon
Very easy to use- simply press the button to adjust laser lines and lock/unlock the device for self-leveling and manual mode.
CONS
Does not provide 360-degree vertical coverage, unlike the other products in this roundup.
---
3. Huepar 621RG
If you are looking for a cheaper Huepar product that nonetheless gives you vertical and horizontal 360-degree lines, than the 621rg is the model for you. The device uses triple power technology, meaning that the device can work with either a lithium battery or simple AA batteries OR can be plugged in.
And you won't have to worry about battery life either, as it has a battery life of 7 hours with AA batteries and 12 hours with a lithium battery, so you can keep your device on-site throughout a working day.
The device, with red laser lines, is less bright, so is difficult to see outdoors, but is, therefore, a lot more energy efficient than the 901cg and 902cg.
With a receiver (sold separately most of the time) it has a working distance of up to 200 feet, and should you have any concerns, the product is sold with a 12-month warranty and free Amazon product support.
One more amazing feature that comes with this product is its durable design.
The laser is protected by a window with IP54 water and dust resistance, meaning that you can use this device with confidence on a busy worksite without needing to worry about damage. you use this device on a busy worksite.
And, unlike other devices, this laser also offers 1/4″-20 and 5/8″-11 mounting threads, meaning that it is compatible with different tripod designs.
Customers on Amazon are loving this product. Will it be the right product for you?
Huepar 621RG Specs
| | |
| --- | --- |
| Weight | 3.19 pounds |
| Beam Color | Red |
| Working range | 130 feet with receiver |
| Batteries required | 4 AA Batteries |
Key features
Red lasers projected to two 360-degree lines horizontally and vertically.
12-hour battery life with lithium battery, 7 hours with AA batteries. Either way, far longer battery life than other products in this article
Triple power technology- works with the lithium battery, AA batteries, or direct input without batteries
Self-leveling and manual modes.
PROS
Long battery life
Very affordable product for the features that it offers
Battery indicators on the keypad allow you to know how charged the battery is at any time.
Manual and Self-leveling mode available.
CONS
The red lasers will be more difficult to see in outdoor environments, and the receiver needed to detect it is sold separately.
Fewer than fifty reviews (as of September 1st, 2020), not as many as for the other products
---
4. Huepar 602CG
The 602CG is very similar to the 602rg, however, it utilizes green lasers that are up to four times more visible than their red counterparts. It may well be worth paying more for green lasers if you are working outdoors and during the daytime.
Like the 602rg, it contains the 1/4″-20 and 5/8″-11 mounting threads that make it compatible with different tripods, and it utilizes the triple power technology that gives you flexibility in how you are powering your work routine.
However, be aware that because of it being so bright, its battery life is not as good as the 601rg.
It only lasts for seven hours with the lithium battery, and it only lasts for four with AA batteries. So, keep that extension cord handy as you may well need it halfway through the day.
The laser is accurate to 1 1/9 of an inch within 33 feet and has a working range of up to 200 feet, and it shares the manual and self-leveling features of the 9011cg, 902cg, and 602rg.
But it also includes a strong 360-degree magnetic pivoting base that allows you to attach it to metal track and steel whilst turning the laser around.
This additional feature really makes this product stand out, especially for surveyors who are working on big road or railway projects.
Huepar 602CG Specs
| | |
| --- | --- |
| Weight | 3.19 pounds |
| Beam Color | Green |
| Working range | 200 feet with receiver |
| Batteries required | 4 AA Batteries |
Key features
Manuel and Self-Levelling modes included.
360 degree
200 feet working distance
Green lasers- for great visibility outside.
PROS
Highly visible green lasers
360-degree coverage both horizontally and vertically
360° Strong Magnetic Pivoting Base which allows for attachment to metal track and steel
Triple Power Technology. Longer battery life than 902cg
CONS
Fewer than fifty reviews, not as many happy customers as other products
Lower battery life than the 602cg
---
5. Huepar Box-1G
If you're looking for a cheaper product that can still provide you with bright, accurate lasers, then the Box-1g is the product for you.
This product works to a higher degree of accuracy than the other laser levels we have discussed so far, being accurate to 1 1/13 of an inch at 33 feet, and it has an overall working range of 150 feet.
So if you are working on a job where precision is key, such as railway construction or electrical wiring, where millimetres can make all the difference, then the precision offered by this piece of kit may be suitable for you.
Another useful feature of the Box-1g is the strong L-shaped magnetic bracket that allows you to attach the device onto metal surfaces and adjust the device around at 180 degrees.
And weighing in at just 1.3 pounds, this is a very lightweight piece of equipment that won't weigh down your toolkit. Perfect for the construction professional who is moving between sites, or for the DIY enthusiast who does not want their tool collection to take up the entire cupboard.
If you are looking for a simple, affordable piece of equipment that nonetheless has a high degree of accuracy and can provide accuracy over a long distance, this is the tool for you.
Customers love this product, it has far more positive reviews on Amazon than every other product in the series. Is it time to trust the customer, and buy this product?
Huepar Box 1G Specs
| | |
| --- | --- |
| Weight | 1.32 pounds |
| Beam Color | Green |
| Working range | 150 feet with receiver |
| Batteries required | 4 AA Batteries |
Key features
Bright green lasers, suitable for outdoor use.
Self-leveling and manual mode
Highly accurate over 33 feet- to within 1 1/13 of an inch.
Pulse mode for outdoor use (receiver needed), Power Saving mode for indoor use
PROS
Lightweight- only weighs 1.32 pounds
One of the more affordable products in this roundup
Very accurate compared to other products in this roundup
With nearly 1200 reviews, this product has delighted a huge number of customers.
CONS
Compatible with Huepar Line Laser receiver only. Receivers are necessary when the machine is on Pulse Mode, a mode that makes it easier to use outdoors.
The lasers are not 360 degrees, only 130 degrees horizontally and 150 degrees vertically.
---
6. Huepar 9011g  
This device takes compactness and value for money to the next level. Priced very competitively whilst still providing excellent accuracy and overall range and ease of use, this is the perfect device for homemakers, whilst still providing some use for construction professionals.
The Huepar 9011G  emits two, bright green vertical and horizontal lines, allowing you to complete jobs from floor and wall tiling, to electrical installation with ease. These lasers are twice as bright as red ones, making them easy to use during daylight hours, although to use this device outdoors you will need to use a receiver.
This device combines manual and self-leveling functions and requires only one switch to switch between the two modes.
No need to fuss around with complicated features that you do not need with this product. This ease of use makes it a brilliant tool even for those without much DIY experience.
It comfortably fits into the palm of your hand or in your pocket, meaning that you can carry around with you easily to different worksites, perfect for the construction professional working on multiple different sites, or the DIY amateur who does not want their tools to take up all of their space.
With a one year warranty and an Amazon policy of returning within 30 days, no questions asked, you can buy this product with confidence and security.
Huepar 9011G Specs
| | |
| --- | --- |
| Weight | 1.15 pounds |
| Beam Color | Green |
| Working range | 85 feet |
| Batteries required | 2 AA Batteries |
Key features
2 100-degree lines.
Accurate to within 1 1/19 of an inch at 33 feet
No Pulse receiving mode, suitable for indoor use only unless working in dark conditions.
One switch operation between manual and self-leveling mode
PROS
Cheap
Lightweight
Easy to use
Good battery life- six hours of operation with all lasers on
CONS
Relatively short working distance. Outdoor use not recommended by sellers.
A slightly lower rating than the other products on Amazon, with a few more reviewers mentioning functionality and defective products as a concern.
---
7. Huepar 9211G
If you want a cheaper product that still provides good coverage to your ceilings and floors, the 9211g may well be the product for you.
A cross-line laser that provides a 180-degree vertical line, a 110-degree horizontal line, as well as two points, gives you all the information you will need to complete many home tasks, from remodeling, plumbing, and electrical installation.
With Huepar's trademark bright green lasers, visibility should not be an issue for indoor work, and it also is bright enough to be read at 197 feet.
And with the IP54 H:130°/V:150°, waterproof, dustproof and shockproof, reliable, and tough casing, you need not ever worry about your device being damaged on a busy worksite by natural factors.
And of course, as with all Huepar devices, it is your choice whether you have it on self-leveling mode, for an excellent job where you need to work on a straight surface, or manual mode for when you want to adjust it for a straight, non-level job. Huepar gives you the control with their easy-to-use 9211g device
Huepar 9211G Specs
| | |
| --- | --- |
| Weight | 1.63 pounds |
| Beam Color | Green |
| Working range | 197 feet |
| Batteries required | 2 AA Batteries |
Key features
IP54 Durable Rubber casing
12-month warranty included
Extra-long laser lines.
Ultra-bright green lasers, twice as bright as red ones.
PROS
Lightweight
Combines plumb with cross laser lines.
Easy to use with intuitive operations.
CONS
Quite expensive for a non-rotary laser
The large battery that the supplier recommends you purchase with this device is not included
---
Q&A about Huepar Laser Levels
If you still have questions about this brand of laser levels, we've put together this section to help you answer some of those questions you might have.
Are Huepar lasers any good?
Huepar lasers are aimed for every kind of user. From a homemaker who is looking to straighten up the pictures on the wall, to a road-construction professional, everyone can find a use for one of these products.
And best of all, they are all comfortably within a handyman's budget. Huepar put the customer first, and they are always innovating and introducing new products with you in mind- only offering you features that you actually need.
But don't just take my word for it. Every single product I am going to show you today has a very strong overall rating on Amazon, and most of them have hundreds of 4 or 5 star reviews. There is no better comfort in buying a product in knowing that other homemakers and construction professionals have had a good experience.
Is Huepar a good brand then?
One thing I can tell you for sure. You can't compare Huepar to companies such as DeWalt or Bosch, Hilti, Makita…etc These brands have been on the market for decades so they've had a lot of time to experiment and improve their products.
Whereas Huepar has been on the market for a few years only. Having said that, they're gaining a lot of traction, especially in the eyes of DIYers and pros who are looking for good but cheaper tools.
Where are Huepar lasers made?
Huepar lasers are manufactured in China from globally sourced components.
How do you use the Huepar laser level?
One advantage of Huepar is that they are very user-friendly.
Set up the laser level on a tripod (not included with the purchase) or workstation and then activate the machine. If it is a self-leveling device or you have it on that mode, allow it a moment to adjust until it confirms it is level.
If it is a manual device or you have it on that mode, adjust it slowly, you may need to change the tripod leg lengths until the pendulum is in a locked position. Many of the products we will be looking at today will have both a self-leveling and a manual laser mode.
Different function buttons on either the remote control or the device itself will allow the device to switch between different modes which we will detail in the article.
Is it safe to buy Huepar laser levels on Amazon?
Yes, it's completely safe, easy, and fast to buy Huepar laser level on Amazon from the comfort of your home if you don't want to get out of your home today!
What Huepar laser level receiver should I buy?
The overall product I would recommend is the 902cg 360. Sometimes it is worth investing more in the kit that can get all the jobs done, rather than buying a cheaper piece of kit that, for example, does not give you 360 degree vertical and horizontal coverage.
You can buy the 902cg with confidence, knowing that at least 500 customers on Amazon have done so, with an overwhelmingly positive experience. One reviewer praised the 'crisp and legible' lines that were given by the product, certainly an important factor especially when you are working indoors.
However, if long battery life is important to you and you want to go for the 602rg, or you want to keep the cost of your toolkit under control and you think the 9011g seems like the product for you, then I would encourage you to go ahead and purchase any product listed in this series.
They all have their own unique advantages and disadvantages, but all of them are loved by customers and are manufactured by a supplier that is committed to quality and innovation.
What grade rod to use with Huepar level detector
You can use any universal grade rod with a Huepar level detector.
Are there any Huepar laser level tripods available online?
Some laser levels are compatible only with particular kinds of tripods, whilst others are more versatile (they can fit on many kinds of tripods). However, if you are looking for a high-quality tripod that is lightweight but can carry a heavy load, the Huepar Lightweight TPD14 is the device for you.
With adjustable leg lengths and a 360-degree rotation head, this is the perfect device for when you are working outdoors, on complex terrain, or if you do not have a 360-degree laser and you are needing to spin your device around, this device could come in very handy.
It is also made of aluminum, so it is very sturdy and accident-proof (though no need to test this hypothesis while your laser is on top of it!)
---
Ninja Team Members Working On This Page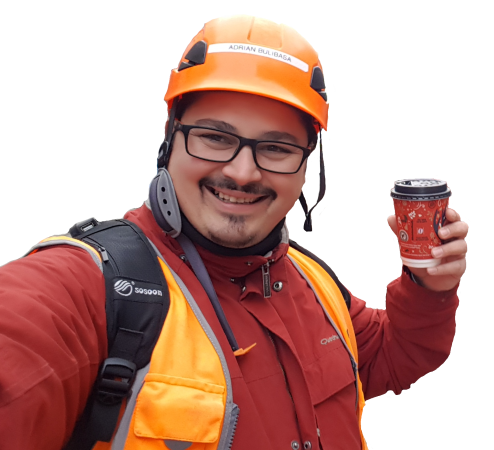 Adrian Bull – Construction Professional
Construction Professional, driver, crane operator, handyman … As a construction pro I love to get creative and see things done with my hands coming to life. Here I share with you some of the things I learn and hopefully you'll get something out of it. Enjoy 🙂
---