Huepar prides themselves on technological innovation and delighting their thousands of customers every year, both in the United States and overseas.
They manufacture a wide variety of excellent products that provide solutions for common construction problems, whilst delivering brilliant, cost-effective service.
Here's our Huepar laser levels reviews page if you're looking for more options than the two presented to you on this comparison post.
Two of their leading products are the 602cg and the 902cg. These products at an initial glance seem very comparable, as they both offer 360 degree horizontal and vertical laser beams and a wide host of amazing, user friendly features.
However there are also crucial differences between the two products, and depending on what you are needing to purchase a laser level for, the product you will need to buy will soon become very apparent.
What is the 602CG
The 602CG is a rotary laser level that projects one 360° horizontal and one 360° vertical green lasers onto your work surfaces.
This is an ideal product for if you need to tile multiple walls at the same time, or if you are working on a large worksite and need to survey multiple points outdoors at the same time.
It utilizes triple power technology, meaning that it can be powered with a large capacity lithium battery for maximum power usage, or simple AA batteries that you can procure from any corner shop.
There is also an option of course to keep it plugged in, avoiding the costly need for batteries altogether.
The device also shared several common user-friendly features with the 902CG
What is the 902CG
The 902CG laser level projects one 360° vertical and one 360° horizontal line onto your work surfaces, which is a great thing for when you are working on multiple different surfaces at the same time.
The green laser beams that it projects are bright, twice as bright as the market standard red ones, as the device has a working distance of 165ft when operated with a Huepar compatible receiver.
How is Huepar 602CG different from Huepar 902CG model?
So it would seem at first glance that these two products are very similar, even identical. However there is one crucial feature that distinguishes the 602CG from the 902CG laser level, and that is triple power technology.
Both devices are operable with AA batteries, and are also functional with a large rechargeable battery. The 602CG thus has a slight edge over the 902CG in battery life.
However, the 602CG can also be plugged directly into a socket, meaning that if you have a long extension cord you do not need to worry about battery life at all. 
Another advantage of the 602CG is that it offers a working distance of 200 feet compared to 165ft for the 902CG.
How is the 602CG similar to the 902CG?
Both the 602CG and 902CG share a wide array of features that respond to user needs.
Both the 602CG and 902CG self-level themselves within three seconds of activation in that mode, allowing you to get to work almost straight away.
And both can also be placed on manual leveling mode, allowing you to project the laser beams onto straight but non-level surfaces.
Both utilize an outdoor pulse mode that enables them to be used over long distances, and both are ensconced in TPR soft rubber that is shockproof, waterproof, and impact-resistant, so you can get on with your job without worrying about accidents or a very dusty worksite interfering with the working of the machine.
And of course, accuracy and visibility are key. Both are accurate to 1 1/9 of an inch at 33 feet, and both products emit bright green lasers that are at least twice as bright as the industry standard red ones.
There are more similarities between these two products than differences, and you can purchase either one of them with confidence.
What are some pros and cons of Huepar 602CG?
Pros
Triple power technology- no need to worry about running out of juice halfway through a job
Four Battery indicators on the keypad allow the user to know how much battery the device has at any one time
Long battery life if purchased with long-life lithium battery.
Bright green lasers

Cons
Some users have alleged that it is a difficult device to mount on top of a tripod.
Long-life lithium battery not included in the purchase.
How about the pros and cons of the Huepar 902CG?
Pros
Durable design with shockproof and impact-resistant casing. So it is durable on-site, and accidents or dusty worksites should be the least of your concerns.
A 12-month warranty so you can purchase this product with confidence.
Horizontal and vertical lines can be switched on individually, or together
Cons
Shorter advertised battery life than the 602CG. This is a big concern amongst reviewers on Amazon
Some customers have been frustrated by the tendency of the device to turn off at random intervals. Not ideal when you are working far away from the device.
Who should get the Huepar 602CG laser level?
The 602CG seems like the ideal device for the surveyor who needs the greater advertised working distance and longer battery life that the 602CG has to offer.
It is a bit heavier than the 902CG, which further reinforces its serious, professional image.
Who should get the Huepar 902CG laser level?
With shorter advertised battery life, this seems like a device for more casual users, people renovating their home, or hanging up pictures on the wall. Or construction professionals who do not need the device to be active as often.
---
Ninja Team Members Working On This Page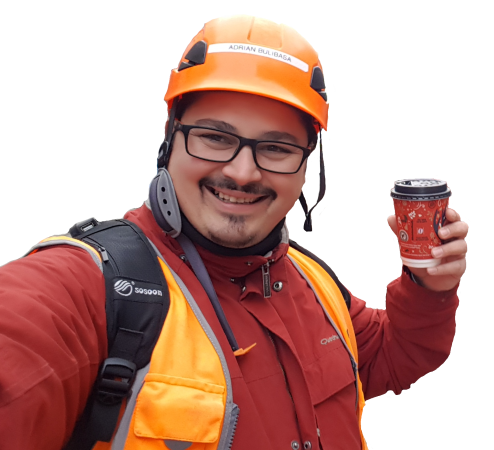 Adrian Bull – Construction Professional
Construction Professional, driver, crane operator, handyman … As a construction pro I love to get creative and see things done with my hands coming to life. Here I share with you some of the things I learn and hopefully you'll get something out of it. Enjoy 🙂
---