How's it going pro contractors and DIY ninjas? Wondering what the most comfortable steel toe shoes in the world are? Well, look no further.

The Best Steel Toe Shoe
EXCELLENT shoe when it comes to comfort. No more pain! This shoe's internal mechanism has been engineered to provide you amazing arch support. Plus, the asymmetrical steel toe cap on this shoe it's a great feature. It will make sure your toes will have enough space to breathe and spread out for more comfort.
I have compiled a list of the top seven steel toe shoes any construction site worker or DIYer should consider.
A couple of my friends recently brought up the topic and it was quite interesting to hear their personal experiences with steel toe shoes.
More often than not, the trade-off involves sacrificing safety for comfort which at first doesn't sound so bad, or does it?
I'm a handyman (amongst other things 🙂 ) and considering how much time I spend on-site, I thought this article was well-timed.
Before I go on if you are a construction pro and instead of shoes, you need boots … here's a great article I've put together about the best safety boots for contractors.
Without much ado, let's dive into the good stuff.
---
A quick look at our 7 most comfortable safety shoes for work
So before we jump into the nitty gritty of these comfy work shoes and snickers, we thought it could be a great idea to present you first which ones made the list.
And here they are…
---
Reviewing 7 Best Safety Toe Shoes For Standing All Day
Alright, now that we know which safety shoes we're going to talk about, let's dive in a little more and talk about each one of them, their features, and some pros and cons!

Let's find the best one for you!
1. Keen Utility steel toe work shoe

Starting off our top 7 most comfortable work shoes is the Keen Utility steel toes shoes; one of a kind work shoe that delivers on comfort and safety.
The shoes have a rugged yet functional look to them and the first thing that came to mind when we first saw these shoes was "man they look tough".
Turns out we were right.
The shoe is made out of high-quality leather and breathable mesh that stands up to wear and abuse.
The makers of this working shoe based the design on durable running shoes with a steel toe box and super strong rubber soles built into it for a start. The shoes internal support mechanisms are designed to provide arch support and follow your feet's natural contours.
This pair of work shoes are built for an active lifestyle; whether you're into hiking, machine work, construction and so on.
Consumer Impressions on the most comfortable work shoes in the world
PROS
These Keen work shoes have asymmetrical steel toe boxes that protect your toes. The asymmetry varies from the left foot to the right foot and the shape covers the big toe to the small toe while maintaining a clean profile.
The shoes are designed around running shoes so you can bet they are super comfortable to have on. The contour-hugging insole inserts make working and walking in these shoes a real pleasure.
CONS
The laces on these work shoes come loose too easily which makes tripping over and injuring yourself a real risk.
>>> Don't forget to check out what more than 1000 customers have said about these safety shoes on Amazon. <<<
---
2. Caterpillar Oversee men's Work Steel Toe Oxford
Perfect For Office Workers
This won't be a good fit if you're doing dirtier, heavy outdoor jobs like construction. But it's a great shoe from a TOP QUALITY brand that might serve perfectly for you if you work in a construction site office. Or maybe you wear a suit and tie at your workplace but steal required to wear safety shoes.
The Caterpillar Men's work steel toe Oxford shoe is built to meet the demanding safety and comfort needs of any construction site.
The brand pays particular interest in anti-static buildup and discharge by maintaining high electrostatic resistance which helps protect you when working on live electrical circuits.
Safety and comfort aside, this steel toe shoe model boasts a classic leather shoe finish that portrays a sharp business look or a casual one that doesn't limit your ability to handle serious tasks at the worksite.
As far as traction goes, these Caterpillar Men's steel toe shoes feature a slip-resistant rubber sole that stands up to slippery surfaces of all kinds.
Whether you're working in wet or oily environments, you can rest easy knowing there's no risk of slipping and injuring yourself at work.
Consumer Impressions on this men's work safety shoe
PROS
Caterpillar took into consideration the electrostatic charge buildup known to cause injury upon discharge. They've included a charge dissipating midsole and a removable inner sock lining to keep you safe from those potential injuries.
Not only can you rock these babies to work and stay super comfortable, but you can also show up to a formal function in them and look sharp as well.
CONS
At 2 pounds, the steel toe shoes are heavy to move around in. This can be a problem for people who need to cover large distances back and forth.
>>>  Don't forget to check Reviews and Opinions about these safety shoes on Amazon. <<<
---
3. Reebok Work Sublite construction work shoe
Be Fast And Comfortable
It looks AWESOME and it feels great to wear them! TONS of features. Like the medial and lateral webbing that offers you stability and a locked-in fit, while the memory tech footbed adapts to the unique contours of your foot. It will make feel like you're not wearing anything
Reebok introduces a fresh new dynamic to the steel toe shoes with the sublite work RB4443. This pair of construction shoes blends the comfort and versatility of running shoes with the toughness of a steel toe shoe.
One look at these things and you might actually mistake them for your run-of-the-mill trainers or running shoes fooled me too.
Developed for accelerated performance, this pair of construction shoes feature proprietary Footfuel technology.
Footfuel comprises a memory foam footbed that changes according to the contours of your feet.
It has been proven that the levels of comfort/discomfort you experience on your feet can have a direct impact on your productivity, health and overall stamina.
Well with these Reebok work shoes, the last thing you'll be worrying about is when the workday will be over and how you can't wait to jump out of your working shoes. (Don't get me wrong I know you want to finish as quick as possible, just like me, but you get the point, right ? )
Consumer Impressions on these Reebok safety shoes
PROS
The shoes have excellent shock absorbing properties and feel almost as light and comfortable as your regular running shoes.
The shoes also feature electrostatic charge dissipating materials meaning you are safe working around live electrical circuits.
CONS
Materials used in the design are not waterproofed meaning the shoes are not suitable for working in wet environments.
☛ DON'T BUY before reading what users have said about these shoes on Amazon. Check it out here!
---
4. AiChuang Unisex steel-toed work shoes
Best Steel Toe Sneakers
It's less than 100 bucks! It looks good, it has safety features like puncture protection so you don't have to worry about nails or broken glass on the floor. Safety toe cap, breathable mesh, rubber sole, AND MORE are features that make this shoe a GREAT candidate for those of you who work a lot INDOORS!
Most steel toe shoes have a reputation of only being suitable for use by male construction site workers.
Well, times have changed and apart from female construction site workers, unisex working shoes have also entered the scene.
The AiChuang Unisex steel toe work shoes are perhaps the sportiest looking work shoes I have seen thus far.
The shoes are made out of high-quality material that is durable and applicable to numerous work sites. The shoes feature a soft comfortable inside and an abrasion-resistant breathable mesh vamp on the outside.
This solves a common problem facing many machinists, site workers, and factory workers; sweaty feet often accompanied by odor. The shoes also feature a steel midsole insert that makes the shoes pierce-resistant while retaining a sleek profile.
Consumer Impressions on these Best Selling Work shoes
PROS
Protection against puncture
Good thread that will give you traction and grip when working in wet and oily environments.
The stainless-steel toe box can withstand impact from heavy items and retain shape keeping the wearer safe.
CONS
The addition of a steel midsole insert means that these shoes are flat and rather hard. You will need to get additional innersole inserts to boost the comfort levels. *Check out these awesome boots for people with flat feet in case you need even more additional comfort from your footwear.
☛ MAKE SURE to check out the reviews section of these shoes on Amazon BEFORE you buy!
---
5. LARNMERN comfortable safety steel toe cap shoes
Great Looking Casual
Safety Toe Shoes
Work insole supported by the arch is ergonomic, which will make your foot more evenly stressed and feel more comfortable whilst at work or DIYing. The insole adds softness and breathability. It's a very light shoe, perfect to work INDOORS. I don't recommend you these shoes if you work mostly outdoors.
The Larnmern shoes are a brand of working shoes that combines casual aesthetics with durability and safety.
The shoes look like your ordinary casual shoes with the only difference being the steel toe box that can withstand a drop force of 200 joules.
The design is simple, aesthetically pleasing and quite comfortable to wear for extended periods of time. The use of breathable materials makes these working shoes even better.
It reduces the occurrence of sweat accumulation and subsequent odor.
There's a lot of reasons why you might want to get this pair of steel toe shoes. The biggest of these is the fact that the midsole and innersole portions adapt to the natural contours of your feet providing maximum comfort even after hours of work.
Consumer Impressions on these steel toe sneakers
PROS
It has a dual density compression molded EVA that achieves ultra-lightweight cushioning and soft heel support.
The shoes are built to meet OSHA standards which means the steel toe box can withstand 200 joules of impact and hold 1000kg of resting mass.
Great for construction and industrial work as well as outdoor trekking.
CONS
These working shoes lack a steel midsole insert which prevents any piercing injuries. This leaves you susceptible to a possible injury. 
☛ PLEASE … before taking any decision, read what almost 300 people are saying about these shoes on Amazon.
---
6. Caterpillar Brode steel toe work shoes
If it wasn't for the 'steel toe work shoe" in its name, this pair of shoes would easily pass off as your regular casual low-top shoes.
The brand deviated from the normal hefty looking leather high top safety shoe shoes and instead settled for a mundane look.
That doesn't however men there was any compromise on safety and comfort.
The Caterpillar men's Brode safety shoe shoes are designed with the needs of a construction worker who needs a reliable pair of work shoes but prefers a sneaker with all of the safety and comfort features of a work boot.
The shoes are made out of 100% high-quality leather with red stitching and lace-up closure. The insole inserts ensure a comfortable work experience all day long.
Due to the lightweight build, these shoes are a pleasure to walk and work in even in stressful extended periods of time.
Consumer Impressions on these stylish Caterpillar work shoes
PROS
These Caterpillar safety shoes feature a waterproofed leather build that stands up to any stress or wears.
Anti-slip treads that boost grip on all surfaces.
Materials used in the build, focus on providing maximum comfort and safety while retaining a hip, casual look. You can get off work early and hit the bar in these babies. 🙂 No need to change.
CONS
The lightweight build on these shoes and the lack of a steel midsole puts you at risk of puncture injuries.
For the most part, these shoes are waterproof except for the lace-up closure portion. Water or any other solvents you're working with can easily permeate through there.
☛ Don't forget to check Reviews and Opinions about these safety shoes on Amazon.
---
7. Timberland PRO Gladstone ESD Oxford Shoe
Great Anti Slippery
Work Shoes
Whether you're a serious DIYer or a PRO in the construction, this CST/Berger rotary-laser will help you do the job EASIER and achieve your tasks FASTER leaving you with more happy customers and more money into your pocket.
This Timberland PRO men's steel toe Oxford is an all-around work shoe that features exquisite craftsmanship. In my opinion, it's one of the best steel toe shoes for managers.
The Gladstone ESD Oxford is defined by a neat array of features that not only offer comfort and unrivaled safety but also scores major points on aesthetics as well.
Referred by most as a low top boot, this steel toe Oxford gets the job done.
It has a hefty toe box complemented by thick soles, and a chunky profile, features that will improve your safety and comfort at the workplace.
The shoes feature slip-resistant Goodyear rubber outer soles with proprietary SafeGrip technology that delivers superior traction on all types of surfaces.
The Titan safety shoe can handle an impact of up to 200 joules and carry up to 1000 kilograms of resting mass.
Consumer Impressions on these Timberland shoes
PROS
No slippage on either wet, dry or oily surfaces due to the low-profile tread pattern on the Goodyear rubber soles ensures. This can save you a great deal of trouble and injuries in high-risk environments.
Anti-fatigue technology that makes use of polyurethane midsole inserts that ensure you stay as comfortable as you can be at the worksite or wherever the job takes you.
CONS
These Timberland Pro steel toe shoes are a bit on the heavy side. They weigh a hefty two pounds which can make movement in these shoes a bit cumbersome.
☛ DON'T BUY before reading what users have said about these shoes on Amazon. Check it out here!
---
---
Conclusion: Last thoughts on these 7 comfortable steel toe cap shoes for work
In summary, all the steel toe shoes discussed above score major points in the design, comfort, and most importantly safety.
The Caterpillar steel toe shoes are built tough and can take on pretty much anything you throw at them.
Reebok is a well-respected performance shoemaker and their entry on this list is well deserved.
Timberland, Keen and LernMern similarly make impressive debuts on this list and I have nothing but praise for their superior quality work shoes.
The number one most comfortable safety shoe title, in my opinion, goes to AiChuang unisex steel toe work shoes. The level of craftsmanship on these shoes is beyond extraordinary.
The makers went above and beyond to make these work shoes unisex and achieve as much safety and comfort as is possible.
They look pretty good too.
If you cannot use steel toe shoes for whatever reason, here's my suggestion for the most comfortable composite toe shoes you can find online (link to Amazon)
Whatever choice of work shoes you settle for on this list, rest easy knowing they are the best of the best.
---
Ninja Team Members Working On This Page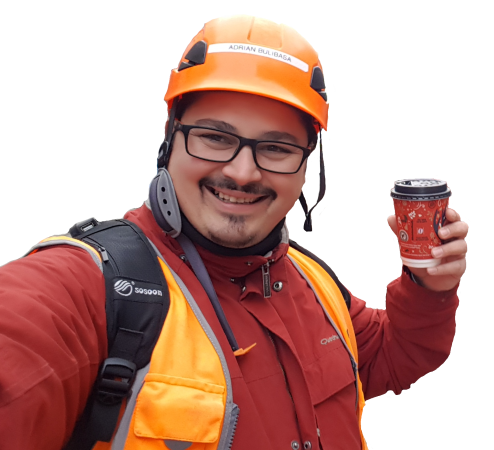 Adrian – Web Master / Construction Professional
Construction Professional, driver, crane operator, handyman … As a construction pro I love to get creative and see things done with my hands coming to life. Here I share with you some of the things I learn and hopefully you'll get something out of it. Enjoy 🙂