Are you a pro in the drywall finishing game? If you're after some of the best drywall tools to improve your service and reduce the amount of time you spend on a task by half, I have exactly what you're looking for. In today's article, we'll talk about the best automatic drywall taper available on the market.


In today's competitive market you must be at the top of your game and use the best and the latest technology in order to stay ahead of your competition. I know that's why you're here.
So let's get into it.
If you've never had the chance to work with automatic drywall taping tools before you can jump to the taper buyer's guide below to find out a bit more about this super tool.
But if you're a drywall professional that has been using drywall automatic tapers before and you want to get your hands on another one, jump to the drywall tapers reviews section.
Automatic Drywall Tapers Comparison
Before we jump into the reviews and see some pros and cons and all that good stuff, here's a quick comparison table so you can see which drywall bazookas we've included in this round up!
---
Best Rated Automatic Drywall Taping Tools for your money (Reviews)
Alright, now that you know which automatic tapers we've selected, let's jump into each one of them and find out a bit more about each.
1. TapeTech EasyClean Automatic Drywall Taper
If you're looking for some new drywall tools that will help you save time and make more money, this tool is a great option.
As a drywall-finishing specialist, you rely on your equipment in order to provide high quality services for your clients. You need effective, easy to maintain and dependable equipment that won't let you down.
TapeTech is one of the best drywall bazooka brands on the market.
The taping tools from TapeTech are expensive to be honest with you, but at the same time, their automatic taping tools are very reliable, sturdy and you can expect to do a high quality job using them.
For quick and easy cleaning operation, this automatic taper comes with an "EasyClean" cover plate that can be removed in just one-quarter turn.
Not only is easy to clean but also the stainless steel side plates that come along with a hard-anodized push rod and cable drum will prevent corrosion and provide a long life for your tool.
There are so many other great features that this automatic drywall taping tool offers up which in turn puts it ahead of the game and at the top of drywall automatic tools.
If you used this type of drywall bazookas from TapeTech before, you need to know that this new version has a smaller diameter of the tube protector providing a lot more comfort when it comes to removing the tube for cleaning or cable replacements.
And the great thing is that requires NO tools in order to remove the protective tube.
Specifications
Brand: TapeTech
Model: 07TT
Weight: 9.8 pounds
Size: 55 x 7.6 x 7 inches
Aluminum construction
Key Features
Easy Clean Cover Plate
Enclosed Rollers on Control Tube
Adjustable Brake
Stainless Steel Side Plates
Integrated Hook
Smaller Diameter Tube Protector
---

Find out the price and more about this 07TT TapeTech Automatic Drywall Taper on Amazon
---
2. Columbia PREDATOR Automatic Drywall Taper
Columbia tapers are the creme de la creme when with comes to automatic drywall tapers.
The Columbia Predator is the first carbon fiber taper in the world and the advantages of owning and using one are countless.
Most professionals will agree that the Columbia tapers are the best for professionals in the drywall business. They run smooth, they're strong and the cutting system works like a dream.
With durable anodized aluminum and stainless steel parts, all manufactured in the USA, this automatic drywall tool deserves all the high praise that receives from the contractors.
From less drag in the corners to the easy to remove the cap for cleaning, this tool will not let you down. It will tape flat and angles effortlessly for you year after year after year.
The 6 wheel sleeve provides you with a smooth slide, excellent grip, and the pull ring is perfect for higher ceilings.
On top of all the above, this tool comes with a 5-year warranty which is just the cherry on the cake when it comes to peace of mind on your part. Honestly, if you're serious about taping and care how a taper feels and performs, this is the one for you.
Specifications
Brand: Columbia
Model: Predator – TZCATPRED
Weight: 8.05 pounds
Size: 54.5 x 6.9 x 6.8 inches
Carbon fiber construction
Key Features
Pull Ring On Hand Grip
Clutch Release Shaft And Pulley Reduce Drag
NEW Patent Pending Pump Action Sleeve Offers Smoother Cut
Quick Release Cap For Easy Clean Up.
Knurled Surface On Control Sleeve
Adjustable Clicker Brake
Rubber Grips On Anodized Billet Trigger
Find out the price and more about this Columbia PREDATOR Automatic Taper on Amazon
---
3. DEWALT Automatic Drywall Taper DXTT-2-760
This DEWALT DXTT-2-760 automatic taper showcases an integrated, trigger-controlled creaser wheel to effectively and easily lay tape into drywall corners. Also comes with an easy to change tape holder that makes exchanging tape rolls fast and effortless.
The DeWalt automatic drywall taper comes with a high-quality, extruded aluminum compound tube which has been hard-coat anodized in order to provide excellent longevity and ease of cleaning.
For all your drywall taping projects, this DeWalt bazooka remains of the most suitable taping tools out there.
Not only comes with a tone of great features but this great drywall bazooka comes with a very interesting 10 years warranty on it. That confident these guys at DeWalt feel about their tools toughness and durability.
One of the features I was mentioning above is the high precision taper head.
The taper head is precision machined from high-grade billet aluminum that has exceptional corrosion resistance.
The DEWALT automatic taper uses a rolling chain idling mechanism for ultra-smooth operation, which eliminates friction and fast gliding wheels in the control sleeve.
In addition to all these features, this drywall taping tool comes with an adjustable roller brake and cutting spring tensioner that allows you to customize the feel of the taper to your own personal preference. Nice, isn't it?
Specifications
Brand: DeWalt
Model: DXTT-2-760
Weight: 9 pounds
Size: 57 x 8 x 7 inches
Aluminum construction
Key Features
High quality anodizing prevents corrosion and extends performance life
Interchangeable wear parts to maximize industry versatility
10-year limited warranty*
Increased drywall taping efficiency
Ultra-smooth operation
Quick-clean head offers rapid cleaning and maintenance
Precision-machined components
Find out the price and more about this DeWalt DXTT-2-760 Automatic Drywall Taper on Amazon
---
4. Level 5 Automatic Drywall Taper
Another great automatic drywall taping tool is the one created by Level5. This automatic taper is great for you if you are a contractor looking for some new tools in your arsenal or a beginner in using the automated drywall taping tools.
Additionally, if you already work with this type of taping tools, but you don't want to hire them anymore, acquiring this drywall bazooka will increase your productivity and income as a drywall contractor.
The Level5 automatic taper has been recently updated and redesigned to bring you some new and additional features.
Here are a few examples:
The molded tape holder and creaser trigger assembly are lighter than before, tougher. It's more durable and the hinges don't break as often.
Now it's easier to control the resistance of the main taping wheel with the adjustable roller brake.
Not only that, but the adjustable cutting spring tensioner puts you in control of the cutting chain.
It comes with a molded cutter tube guide that creates a smoother glide and easier cuts.
This updated Level5 Automatic Taper brings unprecedented value to you.
The Level5 Taper is an ideal place to start with automatic drywall taping tools or add to your drywall tool lineup. I recommend Level5 tools for contractors that are looking for exceptional value in automated taping and finishing systems.
On top of all those great features, the New Level5's have an exceptional 5-year warranty. Often for the same or lower price than used tools!
Specifications
Brand: Level5
Model: 4-760
Weight: 11.35 pounds
Size: 56 x 7.7 x 6.4 inches
Aluminum construction
Key Features
Urethane cup seal lasts 50% longer than rubber seals used by other manufacturers
Precision machined cover plate made of durable stainless steel, and all new stainless internal components
Stainless steel cable drum resists corrosion and wear
Stainless steel side and internal plates that enhance durability
Rolling chain idling system reduces drag and makes taping smoother than competitive models
Hard-coat anodized aircraft-grade aluminum resists damage and provides durability
Most parts that are subject to wear are interchangeable with other major brands.
NEW Quick-Clean head makes cleaning your taper easier than ever. One simple thumbscrew makes popping the L5 taper's head off a breeze.
Find out the price and more about this Level 5 Automatic Drywall Taper on Amazon 
---
5. Best Drywall Finishing Tools Set
There's a lot of pride in doing a great job, especially if it's handcrafted. You know how it is. "I did this with my own hands" we use to say. Many old school professionals in any trade will have some resistance to use tools when doing their craft.
I don't really believe that by using tools to do your job you'll lose quality or anything like that. You'll just speed up the process. And if you're a drywall finisher, you know what I mean. (especially if you work on price)
I thought I should add a full kit as well to this best automatic taping tool list for those of you who want to go ALL-IN!
These drywall finishing tools set is outstanding. It comes with:
Automatic taper w/ Quick-Clean head [4-760]
10″ & 12″ MEGA flat boxes (50% more mud capacity) [4-768 | 4-769]
40″ – 62″ extendable flat box handle [4-780]
3″ and 3.5″ corner finisher/angle head [4-733 | 4-734]
39″- 57″ extendable handle w/ corner finisher adapter [4-795]
7″ corner applicator [4-701]
40″- 58″ extendable handle w/ corner applicator adapter [4-794]
Corner roller [4-707]
36″- 54″ extendable handle w/ corner roller adapter [4-792]
Joint compound pump w/ wrench [4-771]
Flat box filler valve [4-715]
Gooseneck [4-714]
Just keep in mind that there is a learning curve to these tools as there is with any tool.  So be patient as you learn how to use each one of them.
By the end of the week, you'll be as fast as Speedy Gonzales using the tools and you'll make more money since you have "automated" your drywall business now.
Plus using these types of tools is great because of the consistency they provide you with. Making your clients happier with their professionally finished walls.
Find out the price and more about this Level 5 Drywall Taping Tool Set on Amazon
---
Automatic drywall taper Buyer's Guide
What is a drywall bazooka (automatic drywall taper)
A drywall bazooka is an automatic drywall taping tool used for the best professionals in the drywall industry to get fast and accurate results when taping walls. This automatic taper simultaneously applies the correct amount of paper tape and joint compound to flat joints, butt joints and internal corners providing a high-end finish to your projects.
The use of an automatic drywall taper it significantly increases the efficiency of drywall taping as it applies the first bed of compound and tape in one go.
Is it hard to use a drywall automatic taping tool?
It's not that hard to use an automatic taping tool. It is a complex tool though that will require you some patience and time to learn how to use it properly before you become proficient with it.
How to use a drywall bazooka?
Using a drywall bazooka is as simple as:
Fill up the bazooka tube with the correct joint compound
Load the tape
And GO
Honestly is that simple.
The hard part is to get used to moving it up and down, in the corners and so on. The more you do it, the better you'll get at it and faster.
Some of the top Top Automatic drywall taper brands
The brands are listed in no particular order. Unfortunately, not all of them are available on Amazon but you might find them to your favorite DIY and tools local store.
Columbia Automatic Taper
DeWalt
TapeTech
TapePro
Platinum Drywall Tools
Level 5
Drywall Master
What to look for when buying an automatic drywall taping tool?
The brand
Obviously you want to look for reliable and known brands. These tools as we said are not cheap and you certainly don't want to pay that amount of money of some cheap tools that will break down in the first week of using them.
Availability and Ongoing Support
It's reassuring to know if the brand has a lot of distributors worldwide. That usually means it's easier to find support in case you need to repair your tool or maybe you need to replace a part or something like that.
Advantages and inconveniences of using a drywall bazooka
Pros
Huge time saver. It'll help you move faster and finish your projects in up to half of the time as using ordinary drywall tools like a knife and a pan
Increased Productivity
Better finish
Consistent results
Enhanced safety
Using a drywall taper you don't have to use drywall stilts (saving you the need of buying a new pair of stilts)
Cons
It takes quite a bit to clean up the automatic drywall taper
There's a learning curve to it being a bit of complex machine to use
So, in conclusion, which drywall bazooka is the best?
The competition is tight between them.
But if you ask me, I'd have to say, based on my colleague's experience with the tool and what many professionals are saying about them, that the model from TapeTech is the best drywall bazooka followed very close by the Columbia Predator.
If you have any opinion about these great tools, please share that with me and with the community. I'd love to hear what you have to say!
Other Tools Related Articles That You Might Want To Read:
---
Ninja Team Members Working On This Page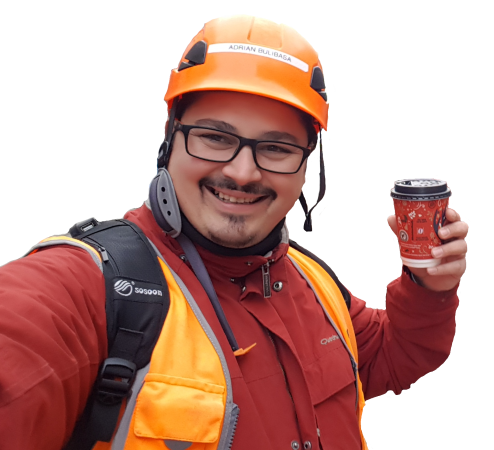 Adrian Bull – Construction Professional
Construction Professional, driver, crane operator, handyman … As a construction pro I love to get creative and see things done with my hands coming to life. Here I share with you some of the things I learn and hopefully you'll get something out of it. Enjoy 🙂
---